Cebu City – Juan "Panterita" Esquer of Mexico surprised everyone when he spoke in Cebuano to Milan "Metodico" Melindo.
"Tumbahun tika" which means "I will knock you out.". Only two words, but it was enough to elicit applause from the sportswriters who attended the press conference held Thursday noon at the Waterfront Cebu City Hotel.
It was Melindo who started throwing verbal jabs, saying that "He should try to knock me out early, If not, I will knock him out."
"If he is wiser than me, he can beat me," Melindo added. "If not he can beat me in his dreams."
"I am prepared," Esquer said, "I am confident and I came here to win in your house. You will see on Saturday how Melindo will fall down."
"I prepared for this fight but for a world title fight. This will be an easy fight for me." Melindo retorted.
"His words do not shock me," Esquer countered, "I have faced many world champions. To me he (Melindo) is a newbie. I hope the judges will not help him. I hope this fight will not be stolen from me like what happened with Ivan Calderon."
ALA Promotions CEO Michael Aldeguer is looking for a world title shot for Melindo, who is defending his WBO Intercontinental flyweight title.
"We will look at the offers," Aldeguer said, "We will keep fighting and prepare him for the title shot."
ALA Gym trainer Edito Villamor predicted a knockout ending for the main event of Pinoy Pride XI.
In the main supporting bout, fans will get to see if Lorenzo "Thunderbolt" Villanueva's power and 90 percent KO rate is for real when he squares off against tough Mexican Diego "Tyson" Ledesma.
Villanueva said his strength and punching power is something that came naturally for him but he feels he needs to improve on a lot of things like his foot work.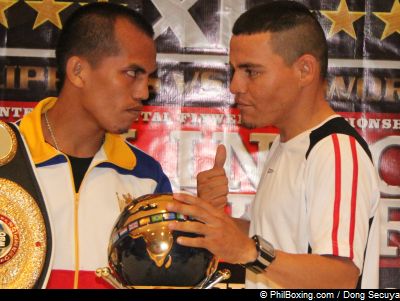 By Rene Bonsubre, Jr.