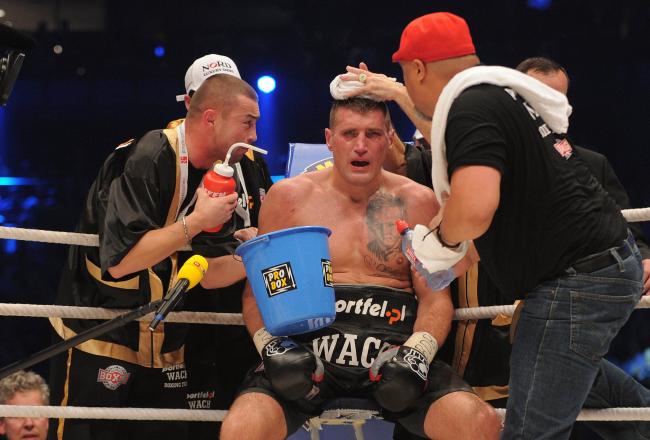 Mariusz Wach has tested positive for anabolic steroids following his Nov. 10 loss to WBA, WBO and IBF heavyweight champion Wladimir Klitschko, according to the German newspaper Bild.
Wach's A-sample has allegedly tested positive, but at this point, his B-sample has yet to be tested.
The Polish fighter is in danger of being suspended and could face heavy fines from the German Boxing Federation and the sanctioning bodies if he is guilty of having used performance-enhancing drugs in the heavyweight title fight.
2012 has certainly been a rough year for boxing, as Wach is now the fifth fighter to test positive for some sort of PED either before or following a major fight.
Other fighters who have tested positive for banned substances this year include current IBF junior welterweight titleholder Lamont Peterson along with former champions Andre Berto, Antonio Tarver and Erik Morales.
It should be noted that neither Peterson, Berto nor Morales were suspended for their infractions or had their licenses revoked.
All three of the previously listed men tested positive for tests administered by either the United States Anti-Doping Agency or the Voluntary Anti-Doping Agency, which have no affiliation with any State Commission.
It is looking more and more like these are not isolated instances and that boxing has a serious issue with PEDs.
http://bleacherreport.com/articles/1430874-wladimir-klitschko-opponent-mariusz-wach-reportedly-tests-positive-for-steroids