JOHANNESBURG — Heavyweight champion Wladimir Klitschko paid tribute to late boxer Corrie Sanders on Thursday, saying the South African made him the fighter he is today.
Klitschko said his shocking second-round knockout against Sanders to lose his WBO title in 2003 was pivotal in his later dominance of the heavyweight division.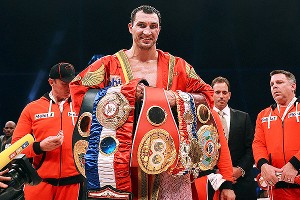 Lars Baron/Bongarts/Getty ImagesWladimir Klitschko paid tribute to the memory of Corrie Sanders, saying his loss to the South African fighter "made me tougher and it made me better."
Sanders died last weekend after being shot by robbers during a family celebration at a restaurant in a small town in northern South Africa.
"The loss against him changed a side of my character tremendously, it made me tougher and it made me better," the younger Klitschko brother told Eyewitness News radio in Germany. "Without my experience with Corrie I wouldn't be the same way."
Sanders' emphatic defeat of Klitschko nearly a decade ago is one of only three professional defeats for the Ukrainian, who holds the WBA, IBF and minor WBO and IBO belts, and hasn't lost a fight in eight years.
"Before and after the Corrie Sanders fight, nobody beat me the way he did," Klitschko said.
Sanders' death in a hospital hours after being shot by armed men who burst into his nephew's 21st birthday celebration on Saturday led to condolence messages from many South African sports stars, television personalities and entertainers.
Klitschko brothers Vitali and Wladimir and former undisputed world heavyweight champion Lennox Lewis also talked of their sadness at the loss of the popular southpaw, who was 46.
Sanders was shot in the arm and stomach as he tried to shield his teenage daughter during the robbery.
"The boxing world will remember Corrie as a heavy hitter and a good man. I have nothing bad to say about Corrie at all," Wladimir said.
Three suspects were arrested in connection with Sanders' murder on Thursday. His funeral will be held Monday.
http://espn.go.com/boxing/story/_/id/8430525/beat-way-corrie-sanders-did