Timothy Bradley: Hopes to Return in December Against Robert Guerrero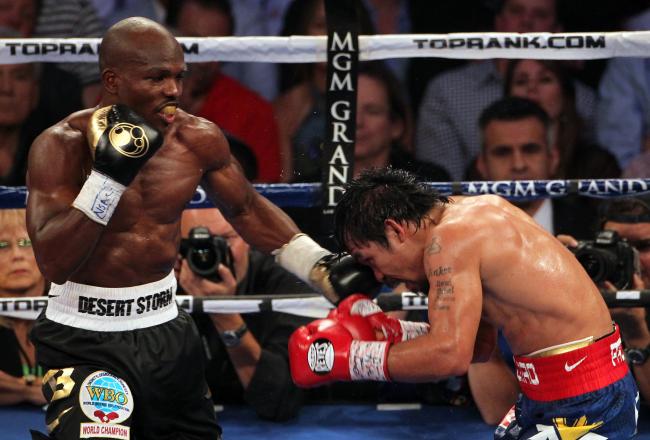 WBO welterweight champion Timothy Bradley appears set to return to the ring this December.
Various media outlets, reported today that Bradley is involved in intense negotiations with interim WBC champion Robert Guerrero for a December 15th fight on HBO.
Guerrero (30-1-1 18 KO) won the interim title in July, defeating Selcuk Aydin by unanimous decision. He is also the mandatory challenger for WBC regular welterweight champion Floyd Mayweather Jr., though that fight is not likely at this point.
Bradley's manager, the outspoken Cameron Dunkin, says his fighter is on board for the fight
"We haven't talked about the money and some other things, but as far as the fight itself, as far as him as an opponent, as far as Tim fighting Guerrero – done, finished. Tim is all on board for it," Dunkin told BoxingScene.com.
Bradley won the WBO welterweight title in a highly controversial split decision over Manny Pacquiao in June. He was unable to entice Pacquiao to accept a rematch and has apparently moved on with plans to fight Guerrero.
For his part, Guerrero seems happy for the opportunity. His manager LuisDeCubas Jr. says his fighter is ready to go, but there remain unresolved issues.
"This is the fight that Robert wants. He wants Bradley on HBO. I think it's a great fight and a fight the fans deserve. Robert wants the best fights out there and Tim Bradley is one of the best fighters out there," DeCubas told Rick Reeno ofBoxingScene.
DeCubas also went on to say that the main sticking point is the Bradley camp's demand of a rematch clause in the contract, something Dunkin denies.
"We are not requesting a rematch clause," Dunkin said.
By: Kevin McRae
http://bleacherreport.com/articles/1346822-timothy-bradley-next-fight-against-robert-guerrero