Rocky Martinez vs. Miguel Beltran: Fight Time, Date, Live Stream, TV and More
There could be major fireworks on the undercard of the Sergio Martinez vs. Julio Cesar Chavez, Jr. bout on Saturday night at the Thomas & Mack Center. Roman "Rocky" Martinez will battle Miguel Beltran, Jr. for the vacant WBO Super Featherweight title.
Both men are hard-punchers, but Martinez especially seems incapable of having a boring fight.
The Puerto Rican ex-champion is 25-1-1 with 16 KOs and he usually trades bombs with his opponents.
Beltran, Jr. is a little more of a technical boxer, but he has some power as well. He's 27-1-1 with 17 KOs. This will be the first time Beltran, Jr. has ever fought outside of Mexico as a professional. He's from Los Mochis, Sinaloa, Mexico.
Beyond the ever present Puerto Rican-Mexican boxing rivalry, this fight also pits two fighters with pleasing styles against each other for a title.
That is genuinely a mix that creates an exciting bout.
Here are the particulars for catching the action, analysis for each fighter and a prediction:
When: September 15, 9:00 p.m. ET
Where: Thomas & Mack Center in Las Vegas
TV: HBO PPV
Live Stream: HBO GO, Pay Service
The Book on Martinez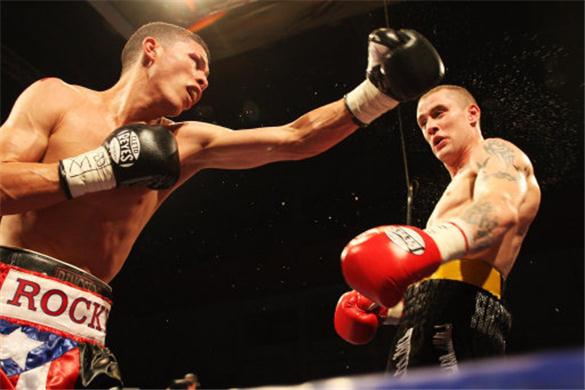 image from blogs.bettor
Martinez is the former WBO super featherweight champion. He lost the title in his only professional defeat in a 2010 bout against Ricky Burns.
He dropped Burns in the first round of the fight, but was out-pointed for the remainder of the bout.
He seems to have taken to the old adage: Take two shots just to land one. It has worked for him thus far, but his defense is a real concern. He keeps his hands very low, and he doesn't move his head enough.
That said, he has a very solid chin and he throws power punches with tremendous leverage.
Take a look at this video of Martinez fighting Nicky Cook. Martinez won the title in this fight, but you can see examples of both his pros and cons in the clip.
A great chin is a great quality to fall back on, but Martinez's style leaves him in harm's way a little too often. Though he is an accurate puncher, he isn't exceptionally quick, and sometimes he takes heavy shots in exchanges.
His skill-set makes for exciting fights, but he's vulnerable to heavy-hitters and fighters with great mobility and a solid jab.
The Book on Beltran, Jr.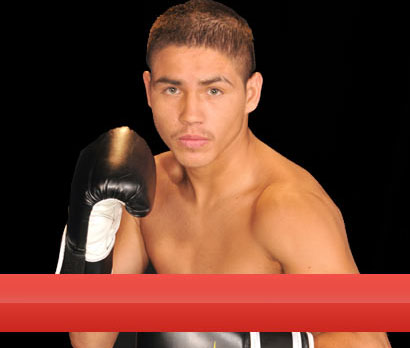 image from notifight
There isn't a ton of footage available for Beltran, Jr., and I have never seen him live. My assessment of his skills are based on two fights I watched to prepare for this article.
That said, his boxing skills are apparent. He has solid head movement and overall defense. He displays a quick and accurate jab. Beltran has excellent hand speed and sharp reflexes.
He had a shot at IBF Super Featherweight champion Juan Carlos Salgado, but their fight was ruled a no-contest in the second round. A head butt and subsequent cut from Salgado caused the fight to be halted.
Beltran, Jr. was clearly landing clean shots against Salgado, and judging by that round alone, it could have been a tough night for the champion.
There are two things you have to consider with Beltran, Jr., though. He hasn't proven that he has great stamina and big fight experience.
He's been in only three fights that were scheduled for 10 or 12 rounds. Only two of them went that far, and one of them accounts for his only loss.
That came via 10th-round TKO in 2010 at the hands of Joksan Hernandez. He certainly has the skill-set to handle Martinez, but the question is whether he has the stamina and poise.
By: Brian Mazique
http://bleacherreport.com/articles/1333595-rocky-martinez-vs-miguel-beltran-fight-time-date-live-stream-tv-and-more