Filipino Fernando Ocon Arrives in Phuket, Thailand to Battle for the WBO Oriental Title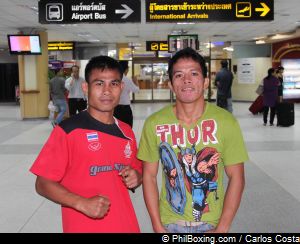 PATONG BEACH, PHUKET – Filipino fighter Fernando Ocon (right) arrived this morning (Aug 23) in the paradisaical resort town of Patong Beach in Phuket, Southern Thailand, to challenge undefeated WBO Oriental flyweight champion Kwanpichit 13 Rien Express (16-0, 6KO's) tomorrow at the Bangla Boxing Stadium.
The two fighters bumped into each other at Phuket's International Airport and exchange polite greetings.
The 21 year-old Fernando Ocon (10-1, 6KO's) who belongs to the stable of Cebuano promoter Rex "Wakee" Salud, is accompanied here in Phuket by his trainer and cornerman former amateur bantamweight fighter Jellyper "Eper" Tepura of Liloan.
Meanwhile, Kwanpichit, 30, captured the vacant WBO Oriental crown by dismantling Noel Adelmita last May in Nakhon Ratchasima.
The weigh-in ceremony will take place today at 3pm (Thailand Time) at the plush Chang Residence Hotel in Patong Beach at 156/1 Nanai Road, Patong Beach.
Philboxing is the only international media outlet accompanying Fernando Ocon in the most important fight of his life.
Should the cheerful Pinoy born in Tagbilaran City, Bohol, emerge victorious, the doors for a WBO world rating will most likely open for him. Let's hope for the best.
Other Filipino boxers like Rey Lorito, Roilo Golez and Jose Ocampo have won titles in Thailand and this Philboxing author has been lucky to be present.
This WBO Oriental fight card is being graced by the queen of Thailand's boxing, Madame Pariyakorn Ratanasuban, president of Onesongchai Boxing Promotion, the largest boxing promotion company in the Kingdom of Thailand.
Philboxing will be present to photograph and report the event's on this WBO Oriental Title here in Phuket.
By: Carlos Costa