"Boom Boom" Bautista looks forward to a world title shot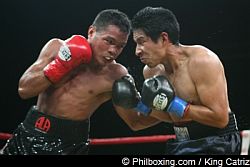 CEBU – Rey "BoomBoom" Bautista is not looking past Daniel Ruiz. But he is very much aware that there is something more important at stake besides the vacant WBO International featherweight title. If he wins this fight on October 20, he will get a high world ranking and inch closer towards challenging WBO featherweight world champion Orlando Salido.
"Salido is the champion I would like to face. We are both aggressive fighters and it will be a very exciting match-up." Bautista told this writer during an informal gathering with Cebu sportswriters Thursday evening.
The 26 year old Bautista (33-2, 25 KO's) knows he needs to take care of the business at hand. He has studied a fight video of Ruiz and is working hard trying to shake off the ring rust at the ALA gym. Bautista has not had a tough fight since December 10, 2011, when he beat Miguel Mendoza of Mexico at the Hoops Dome. Last March, he fought a patsy when ALA Promotions was duped by their contact in Mexico, Hugo Correa, who sent the fake Genaro Garcia.
Bautista is working on his conditioning and has started light sparring with up and coming boxers at the ALA gym. This October at the SM Mall of Asia Arena, he will be on the undercard of the WBO world bantamweight title fight between his stablemate AJ Banal and Pungluang Sor Singyu of Thailand.
"I don't mind fighting as an undercard," Bautista said, "That will be less pressure on my part that I won't have to carry the entire card."
When it comes to his personal finances, Bautista is one of Philippine boxing's success stories. He now owns a fleet of vans and jeepneys and has purchased land in his native Bohol. But he realizes that he still needs to redeem himself. He has avenged his loss to Heriberto Ruiz but he still thinks about the loss to Daniel Ponce de Leon.
Bautista even said that beating De Leon in a rematch would mean more to him compared to winning a world title. De Leon will be challenging WBC featherweight champion Jhonny Gonzales this September 15 and the outcome will surely interest BoomBoom.
Bautista has won seven straight, six by knockout, since recovering from wrist surgery. He remains one of the Philippines' more popular boxers but has more than his share of critics.
"I started boxing at nine years old and I thought boxing was just about fighting another guy. I never realized that I would get to talk on the radio and on television and I was required to greet fans and talk to them." Bautista said, "I was never used to that growing up. Because of that, people misinterpret my actions and accuse me of being boastful."
For the meantime Bautista will devote his energies to his training. Ruiz (27-5-1, 19 KO's), from Los Mochis, Sinaloa, Mexico, lost by 8th round technical decision to Will Tomlinson in an IBO superfeatherweight title bout in Australia in his last fight.
"I noticed he (Daniel Ruiz) counterpunches well," Bautista said, "But Heriberto Ruiz was better and a more difficult opponent."
Bautista has always stated his preference for a good old fashioned brawl. This has endeared him to his fans who know they will always get their money's worth when he fights.
By: Rene Bonsubre, Jr.