Doliguez: Morales will Just be Another Name on my Knockout List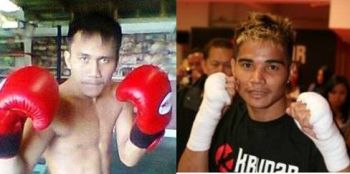 Touch Gloves Stable's undefeated knockout sensation Jun "Hercules" Doliguez has been training intensively in Agoncillo, Batangas in preparation for his WBO Oriental Title bout with Ciso "Kid Terrible" Morales. In as much as Batangas City is very excited for this major boxing event in their home, Doliguez is much more excited about getting a belt for his own and in putting Morales to sleep.
"When I started my boxing career, I only wanted to gather more wins for my record and just keep on winning every fight placed in front of me. I never thought about having a KO victory as a requirement in every fight. But as I worked harder in the gym, I have seen my power immensely improving. I was knocking out opponents left and right and it gave me more confidence. I want to be an exciting fighter just like my idol Manny Pacquiao. For me being a boxer is all about entertainment and I know the fans always want a knockout as much as possible. I know that Ciso Morales is a skilled fighter but I guarantee the fans, Ciso will just be another victim on my knockout list", Doliguez told philboxing.com.
Saved by the Bell Promotions President Elmer Anuran also expressed his excitement of staging this important event in Batangas City. "I want to give this as a treat to the good people of Batangas City. They love boxing. Our new organization ALA EH (Association of Local Athletics Entrepreneurs and Hobbyists) is also supporting this event for the advancement of local boxing in the province of Batangas. I hope boxing fans will support this fight. Al Sabaupan will also be co-headlining this event. This will be a total sell-out", Anuran stated.
The Doliguez-Morales WBO Oriental Featherweight match up will be held on October 13, 2012 at the Batangas City Coliseum.