Pinoy Pride XV: Martinez and Pazos vow spectacular fights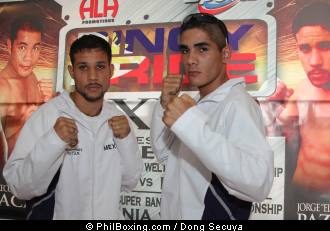 Mexican boxers Jorge "El Feroz" Pazos and Angel "Arcangel" Martinez together with manager and promoter Jesus Edmundo Gaytan answered questions from Cebu sportswriters in a press conference held today at the Patio Isabel in Talamban.
Pazos (21W-3L, 14 KO's) is set to face undefeated ALA Boxer Genesis "Azukal" Servania (18W-0L, 6 KO's) for the vacant WBO Asia-Pacific super bantamweight title. Martinez (18W-2L-1D, 13 KO's) on the other hand will face Jimrex "The Executioner" Jaca (39W-6L-3D, 19 KO's).
The trio said that they are well prepared and win or lose, fans will certainly enjoy the fights and they will be competitive.
"Our two boxers have a bright future and they trained hard," Gaytan said, "We will give fans a spectacular fight."
"I trained for two and a half months," Martinez said, "I have seen videos of Jaca. My strategy is to fight from a distance and wiat for my chance to hit hard. Jaca is known in my country because he fought Juan Manuel Marquez. Jaca is a good boxer and a southpaw, so I will also learn from him in this fight."
Martinez has also lost to a quality boxer, Lucas Mathysse. "He was very fast and strong and knew how to push and hold."
Gaytan said that Martinez was competitive against Mathysse in the early rounds but the body blows really hurt him and made him fade. In the later rounds.
Pazos for his part said "I came well prepared, I am also considered a promising fighter in Mexico. So this will be a battle between two promising fighters. I have seen Servania fight. He is a good fighter, very strong and very fast. This will be a spectacular fight, the most important fight of my career."
Mike Lopez, the ever ready cornerman for Latino boxers here in Cebu, will be in the corner of Pazos and Martinez together with Magdaleno Montoya from Team Montoya.
Gaytan also commented about the fact that only Fernando Montiel and Rosbel Montoya are the only Mexican boxers who have won in Cebu. "80-90 percent of Filipino boxers also lose in Mexico. It must be the travel, climate, diet and change of time zones."
Rosbel "Lobito" Montoya (36-4-1, 30 KO's) will face Cebu sportswriters on Wednesday. He is scheduled to fight Jason "El Niño" Pagara (28-2, 17 KO's) in the main event of Pinoy Pride XV: The Rematch. They will vie for the WBO International jr. welterweight title.
The weigh-in will be held at the SM Cebu City Mall on Friday noon and fight day will be at the Waterfront Cebu City Hotel on Saturday.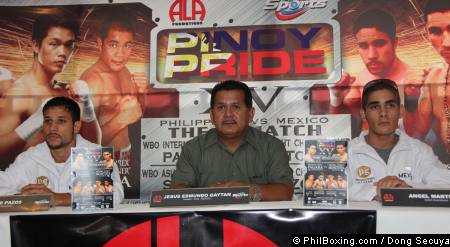 By: Rene Bonsubre, Jr.