Banal and Hidalgo make weight for Pinoy Pride XIII: Road to Glory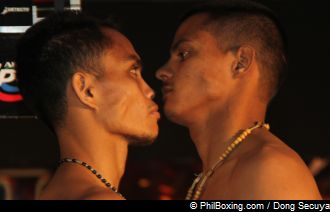 Cebu City – AJ 'Bazooka' Banal easily made the bantamweight limit of 118 lbs on his first attempt while Raul 'El Bule' Hidalgo of Mexico stepped on the scales at 119 lbs. It took him less than an hour to sweat off the excess pound for their WBO Asia-Pacific title fight.
Banal and Hidalgo will fight in the twelve round main event at the Waterfront Cebu City Hotel and Casino Saturday night.
For the supporting main event, the 'Road Warrior' Rocky Fuentes stepped in at 113.5 lbs and Javier Franco of Mexico weighed 116.5 lbs and was asked to shed at least one pound. The contracted weight for their ten round non-title contest is 114 lbs. An hour later, Franco was not able to lose weight and will be wearing heavier ten ounce gloves on fight night.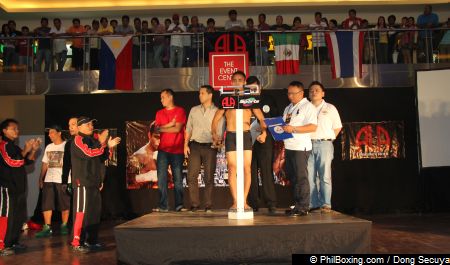 Banal and Fuentes will have a lot to lose when they stake their lofty world rankings against the visiting fighters.
'Prince' Albert Pagara and Thailand's Phupha Por Nobnum both weighed 116 lbs for their eight rounder.
Arthur 'El Matador' Villanueva stepped on the scales at 118 lbs while Rey Migreno weighed 119.5 lbs. Migreno had to shed the excess weight and stepped in at 118 in his second attempt for this eight round non-title affair.
In another eight rounder, Roma Rate weighed 108 lbs while opponent Jade Yagahon weighed 107 lbs.
Arjan Canillas (126 lbs) and Ranie Pamatian (126.5 lbs) will fight in a scheduled six rounder.
Pagara, Villanueva, Canillas and Rate are all unbeaten prospects.
Jun "Flash" Intor (127 lbs) will provide comic relief in his four rounder with Alejandro Marapao (126 lbs).
Crispin Parba (131 ¾ lbs) and Belmar Quinones (130 ½ lbs) will open the festivities with their four round affair.
The weigh-in held at the SM Mall Events Center was supervised by Glen Agena and Rolando Mendoza of GAB-Cebu.
POSTSCRIPT:
As of Thursday noon, most of the expensive seats were sold out. This is good sign for ALA Promotions; most of the fans here are unaffected by the Genaro Garcia fiasco. Boxing has also steadily moved into the mainstream as the PINOY PRIDE series has consistently topped television ratings here in the country on Sunday mornings. This is a good sign for Philippine boxing as a whole.
During the presscon yesterday, ALA Promotions CEO and President Michael Aldeguer talked about staging the next Pinoy Pride in Metro Manila. Aldeguer hinted at the possibility of having Rey Bautista and Donnie Nietes in one fight card. The WBO lt.flyweight champion is due for a title defense.
By Rene Bonsubre, Jr.